Welcome to Special Products World in MATSUNAMI GLASS!
We, Fine Glass Div., are expanding our business domain into home appliance, tele-communication, optical communication, information technology, energy, etc. with our products, including glass material mainly, and technical property.
We would like to introduce our technical property and product information in this website.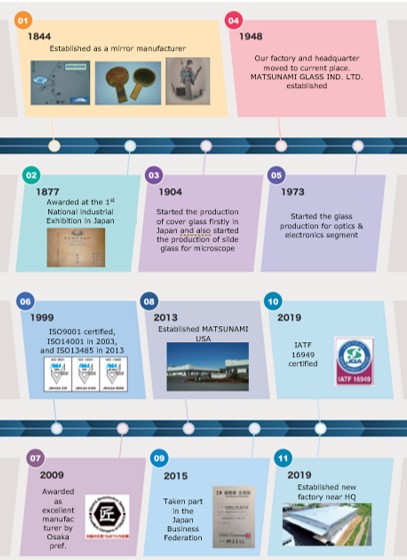 MATSUNAMI GLASS IND., LTD. is a fine material manufacturer and processor established in 1844.
Our origin was a manufacturer of thin mirror for those who wanted to check Japanese traditional hair style in Edo era.
We were good at producing and processing thin glass, so that we expanded our business domain to slide-glass and covering-glass for medical application.
And, around 50 years ago, we started manufacturing and processing various glass for electrical and optical application.
During more than 177 years, we are trying to implement new activities to meet customers' requirements.
Archives of products introduction via e-mails